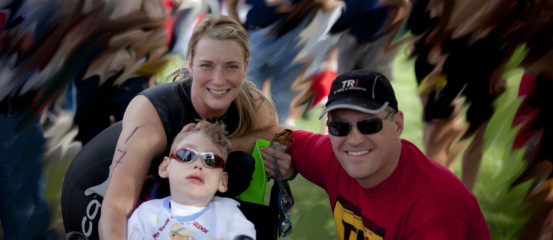 What is Team Thomas?
In celebration of the 10th Anniversary of Tri To Make A Difference, we hope to reach our collective fundraising goal of one million dollars! In order to accomplish that goal, we've created Team Thomas with the hope of raising an additional $100,000 by race day in honor of Thomas Lynch, the inspiration behind this entire triathlon event. All of the funds raised will go to Children's Miracle Network of Amarillo. Our hope is that athletes all over the country would commit to raising at least $500 for Children's Miracle Network  through the race event of their choice. We want to create a team of dedicated athletes who will help us reach our fundraising goals for Team Thomas, as well as raise awareness for Children's Miracle Network.

Here's how it works:
STEP 1:  Pick a race.  Any race.  Doesn't matter what race.  Doesn't matter what city.  Doesn't matter if it's a local 5k, the Boston Marathon, or even a triathlon.  Heck, a bike race or one mile fun run will do.
Step 2:  Once you know what race in which you are going to compete, sign up to join Team Thomas here. By doing so you commit to raising a minimum of $500.  In return, you will get all kinds of #GreenTeam goodies.  A race shirt.  A long sleeved T shirt.  Socks.  Running hat… everything you would need to look good while you #TrainForAMiracle.
We will encourage one another along this journey and will even have a place to post pictures.  Each team member will have a chance to contribute to our finishers' blog.
Step 3:  Train. Train. Train.  Fundraise.  Fundraise. Fundraise.  You can customized your own fundraising website where your fundraising thermometer will show how much you've raised and how close you are to your goal.  It's easy. Just send your website information to friends and family!
Step 4:  Go race, then send us a picture of your finish – or a video.  We will send out an encouraging message to all the racers each time a racer finishes.  Remember: we are a team.
Why on Earth would you do this?
Two reasons.
First, this cause is such an amazing cause.  All the money, that is 100 cents of every dollar, that we raise goes to help sick children and their families in the tri-state area.  None of the money you raise will be used to buy shirts or race swag or pay for postage or our website.  None of it!
Secondly, if you raise $1500 your name will go into a drawing for a new road bike or tri bike. If you raise $2500, your names goes into a drawing for a 6 day, 5 night trip for two to Hawaii to watch the 2016 Kona Ironman world championship.  You heard me right: someone is going to Hawaii and they get to bring a friend.
Here is what we will do with the money.
The Hawaii trip and the bike have been donated and underwritten so none of your funds will be used to pay for the trip.  All the funds we raise through the #TeamThomas campaign will be combined with our total purse from the 2015 Tri to Make a Difference Sprint Triathlon and presto!  We will hit our 10 year goal of raising one million dollars for Children's Miracle Network!
Our tenth year anniversary.  The creation of #TeamThomas.  One million dollars raised.  Thousands of children helped.  And all this… because of you.
Together let's achieve something no one said could be done.  Together let's make a million differences.